News
Find Us On Instagram
Details
We are posting images on some of the things we are doing up on Instagram.
Check it out here.
We are presenting at Cyclitech 2016
Details
We will be presenting on ultrasound scans on carbon bicycles at the 2016 Cyclitech Conference.
The conference is at Newport Beach, California on the 6th and 7th of December.
If you like cycling technology, this is the conference to go to.
There will lots of discussions on carbon bikes with topics including Non Destructive Testing and Quality Control and Repair, things that we have been at the forefront of for many years. It is great to see organisations realise the importance of Non Destructive Inspection methods, to enhance the safety and enjoyment of cycling.
For more information you can check out the website http://www.cyclitech.events/
Rowing in rough water
Details
Many years back leading into the Athens 2004 Olympic rowing program it was identified that the regatta course had the potential to get rough due to the coastal winds.
We identified that a solution to taking on water during the race would be required. Many options were discussed including fitting pumps etc. The preferable solution ended up making fittings to attach to the boats that would reduce the chance of water coming onboard in the first place.
Water deflecting shields were made from carbon fibre that achieved this outcome.
As it turned out, the water conditions were not a problem and the parts were not required, however it really is better to be prepared.
Channel 7 and ABC news did a story on it leading into the games. The video quality is not that great but you can get the idea.
Cycling Maven VLOG - "Carbon Fiber - The Truth"
Details
Mark, aka "Cycling Maven" recently had a crash and brought his bike in for an assessment, here is his Vlog of the experience.
Le Tour Prologue Video
Details
Here is a video that was done as part of Fox Sports Le Tour Prologue a few years ago.
3D Printed Bar End Grips for Bridies Hour
Details
Recently we supplied Bridie O Donnell with some 3D printed bar end grips to help maintain an optimum aero position for her World Hour Record attempt later this week.
These are available for purchase and we are also looking at a Di2 version with integrated buttons.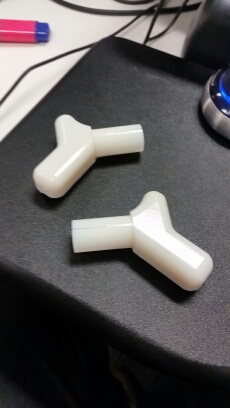 Presentation at Composites Symposium
Details
In late January, the director Raoul Luescher was invited to present a technical paper at the SAE International Design, Manufacturing and Economics of Composites Symposium.  The conference was held in Turin Italy with composite specialists from all over the world.
Our presentation, titled "Considerations for Volume Production of Bicycles" showed some of the manufacturing methods used, quality issues and design trends.
There were some great discussions on the future technologies such as those being developed by Boeing, EADS, etc in the aerospace sector and also the automotive sector with Lamborgini, BMW and the Fiat group (Ferrari, Alfa Romeo etc). Materials suppliers were also represented showing the latest materials and processes as well as the CAD, CAE software suppliers showing design and simulation packages.
As usual bicycles are a favorite topic with most people, especially in Italy!
Luescher Teknik would like to thank SAE International for hosting a highly interactive conference.
A link to SAE International can be found here.
Article in MTB Australia magazine
Details
Raoul Luescher the director of Luescher Teknik Pty Ltd is featured in the current issue of Mountain Bike Australia magazine. We often get asked if we repair MTB's as most of our repairs seem to be on road bikes. In the magazine article you can see the steps taken to perform a simple repair and also get an insight into some of the methods and materials used to ensure the highest quality structural repair to your ride.
You will also see one of Raoul's older MTB's from the 1990's as well as a new road bike that will top the scales at about 600g.
Follow the link or get a copy at the newsagent http://emag.mountainbikingaustralia.com.au/LandingPage.aspx
World Masters Track success
Details
Congratulations to Dave Stevens and Gavin White on their dominant performances at the World Masters Track Championships in Portugal.
Gavin won the M2 Kilo by 1.6s.
Dave won the M3 Pursuit by 5 s.
Both riders have undertaken windtunnel testing with Luescher Teknik to optimise their performance.
Recent success at Australian Masters TT championships
Details
After recently refining their aerodynamic position in the wind tunnel with Luescher Teknik, these riders performed strongly in the Australian Masters Road Championships in Ballarat.
Stand out performances include:
Shane Miller with the fastest time of the day with average speeds 8% higher than his pre wind tunnel speeds. Shane averaged over 46 kph on the 20 km course.
Mike Clucas who has recently returned from a long break from cycling to win the bronze in MM4.
Dave Stevens finishing 4th in the strong MM3 field, beating riders that finished ahead of him at the Australian Track titles earlier in the year. And backing up to win the criterium.
Malvern Star Oppy wins Australian Design Mark
Details
The Luescher Teknik designed Malvern Star Oppy carbon road bike frame has won an Australian Design Mark at the Australian Design Awards. This is a fantastic result for us and the team involved at Malvern Star. We are proud to have an Australian designed bike competing against other established brands.
Drew Ginn in the windtunnel
Details
During the recent wind tunnel testing sessions we did some work with 3 time Olympic Rowing Gold Medalist Drew Ginn, who is looking at doing some cycling. As to be expected with an athlete of Drew's caliber, he does not do things by halves and came to the tunnel to see what was possible.
This made the news, see the story here.
New Malvern Star Bike
Details
I have been consulting to Malvern Star as the lead designer on their new carbon road bike series. They were looking for Australian expertise in carbon bikes to create an Australian bike for Australian riders and conditions. Look out for them in bike shops soon
Article on running shoes in R4YL magazine
Details
I got into some track running some time ago. As is my fascination with improving performance, I studied running shoe technology. Here is an article that I wrote for Run For Your Life magazine about how I made some light track spikes and the ideas behind them.